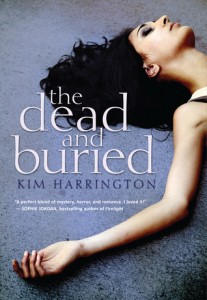 Though there were certainly some great elements to this one and Jade was an interesting character, the twist in this one was predictable and admittedly a bit of a letdown. The clues were a bit too obvious and easy to pin down, and even if the specific reasons for things were yet to be revealed, the actual person behind it was easy to pick out. Still, this was a fast and interesting read with a few story threads mixed together underneath the main ghost element.
One of my favorite things about Jade is her devotion to her family. Even if things with her stepmom are rough, she loves her half brother so much, it makes up for any of her other flaws related to her family. While I felt like the specific dynamic between her and her stepmom was a bit contrived, and not all that satisfying, her relationship with her father was well done and so easy to get and relate to. Missing her mother like crazy and having a hard time just accepting a new mother figure in to her life, and sometimes even holding some frustration that her dad seems to have moved on, Jade has a few hurdles of her own to get past and overall, Harrington handles these in a realistic and engaging way. Still, her connection to Colby shines above the rest of it, from their general sibling camaraderie to her determination to figure out what the ghost wants to protect him.
Also notable with Jade is her love of gemstones and her knowledge of what they stand for and their uses. Though a small element, this is woven throughout the book in an easy way that doesn't seem too forceful. The stones felt like a way for Jade to sort of stand apart, rather than seeming like a collection just for the sake of a character hobby. The way they give her and Donovan something to talk about, as well, added a sweetness to what could be some otherwise awkward situations.
While some of the characters did feel a little too typecast, Donovan was far different from the typical love interest seen. He keeps more to himself, but he's genuinely kind, perceptive and sweet. Artsy, yet thoughtful, Donovan is one of those boys who can totally captivate you without even trying, and watching Jade fall for him even with everything going on added such a soft romance to things.
The plot of this one certainly had the potential to be good, but at least, for me, being able to predict who it was so early in the book really knocked it down a few notches for me. I felt like this one didn't have quite the kick Harrington's previous mysteries had, and coupled with the sometimes cliché elements, this one didn't wow me as much as I'd hoped. The writing, too, felt simpler than usual for Harrington, though still held a great voice and vibrancy to it.