Living in the Heart by Drunvalo Melchizedek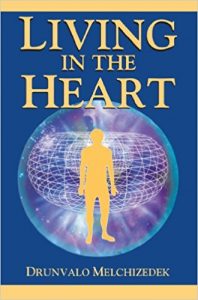 This short book, about 120 pages, had a massive effect on my life, possibly the similar wow-aha moment when years ago I read both The Ancient Secret of The Flower of Life Volume 1 and 2 books. But I found Living in the Heart book short, descriptive and eventually to the point, easy to follow and understand.
The first half of the book talks about Drunvalo's life stories related to the human Merkaba field and consciousness interacting and interfering with the planet Earth, and about the psychic children found all around the world. The second half is dedicated to the Human Heart and its amazing potential, How to find and enter the Sacred and Tiny Space within the Heart through the meditation (CD included).
It took Drunvalo about 20 years to put together all the knowledge, make sense of it, and eventually bring it out to the entire world. He explains the importance of using the heart in all creation in this world instead of the brain. So, we should re-learn how to connect with our heart once again as we did tens of thousands of years ago. Once learned this meditation technique, and once the Sacred space within the heart has been explored, there is time to find the place of all creation that has been there even before the entire Universe and Galaxies were formed, the Tiny Space of the Heart which is located somewhere within the Sacred Space of the Heart, which only you can be able to find through the intense practice of heart meditations.
Drunvalo Melchizedek also talks about his most amazing experience when his 2 toroidal fields of his heart, of which the infinite divine energy is being sourced from the Tiny Space of the Heart, and his light energy Merkaba field inlined as one, opening the door to the yet unexplored.
I believe it's important to mention that by practicing the entering the Sacred Space of the Heart meditation one is able to also connect with own lower-self (global consciousness of the Mother Earth united with human consciousness), and also the higher-self. In any way, the journey to the higher planes and levels of consciousness always has to go through the Heart in its purest essence.