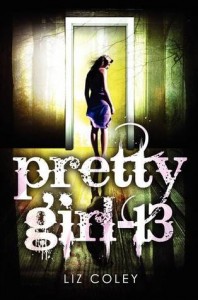 There is something quietly gripping about this book, Pretty Girls 13 by Liz Coley, even while having a somewhat more low-key feeling overall. Though I certainly wanted to know the details of what's happened to Angie, the actual playout, of finding out she's got multiple personalities and the subsequent attempts at merging them, had a slower momentum to it, yet I couldn't put this one down. I felt so much for this girl and truly wanted the best for her and those around her.
Angie is an unexpected mess, even beyond the direct causes of what she's been through. With some secrets, even she doesn't know about, yet a strong drive to work things out and move forward, she is a very well handled character who is completely admirable. Stuck in her 13-year old self's mindset, but being forced to move beyond that in a lot of ways, she struggles with things it seems like she shouldn't have to. With the added complication of the alters, who crop up whenever they feel the need to help or protect her, she has a lot of ahead of her but handles with a certain level of grace.
With a hint of a going nowhere sort of romance and a huge family element, this is definitely a realistic, impacting book. Angie's father made me crazy, with his distance and gruffness, and though her mother was at times too present, the different ways the couple has handled everything and the resultant effect on Angie was a stellar part of this book. As flawed as the next person, Coley doesn't hold back when it comes to this family unit.
There is a great plot to this one, even if seemingly simple. There are some big twists, some of which can be predicted yet still pack a punch, and others which knock the wind from you. Then there's the narrative style, which keeps a certain barrier between readers and Angie to a certain extent, even while doing a great job of building her voice and personality. This book is a stunning debut.