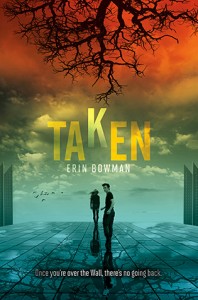 Taken by Erin Bowman is an interesting book. There were a lot of things I really liked about it and several I didn't like. It is a tough book to review because it will absolutely appeal to its target audience and there are some great things about it; however, I do feel like it could have been better.
Let's start with the positive. The world creation here is fantastic. This is a completely believable, well-developed vision of a post-apocalyptic world. The Wall, The Heist, and the entire history of Claysoot are intriguing. Fans of The Hunger Games, The Maze Runner, and Knife of Never Letting Go will find elements that they love from those series, but there is enough to Claysoot and the world beyond that makes this a unique experience.
One of the most interesting parts of this world is the slating process. It dehumanizes the people of Claysoot and it also forces the kids to grow up faster. Because boys are taken at the age of 18, they are assigned lovers for a month at a time, hoping that they will be able to create a new generation. No one knows what will happen if Claysoot runs out of men; this seems like the best way to ensure the survival of the community.
The problems in this novel lie in the way that the history and plot are weaved into the story. There is too much info dumping. Way too much is learned from characters telling each other in dialogue and after it happens several times, it took me out of the story. I would get distracted when reading and that is never a good thing. This is the world I wanted to be immersed in, but I never truly was, and that is the book's biggest flaw. On the other hand, a reader who gets through a few books a year or one who has not read countless stories like this may not be bothered by it. I recommend this book because it does have a great premise. It is just with reservations because if you have not read Patrick Ness, for example, I would suggest you do that first.