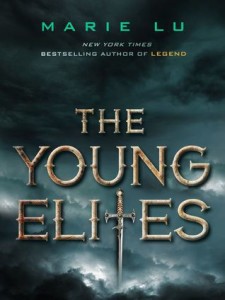 Have you ever wanted to know the villain's side of the story? Do you ever wonder what motivates the "bad" characters in books? Well, if that is something you have been looking for, then look no further. Marie Lu has managed to tell a magnificent and dark story from alternating antagonist points of view.
Yes, yes, I know . . . if the main character is evil, she is still a protagonist. I'm throwing that rule out the window. Adelina is one of the main characters of the story, but right from the beginning, the reader can tell there is something off about her. Right away we begin questioning her motives and inner desires, and I LOVE IT!! Let me set up the premise for you. When Adelina was a little girl a blood fever swept through the land. This fever killed many, but those it did not kill it left with markings and some were left with powers–powers that no one knew how to control, or had even heard about before, and this scared the general population. In this magnificent and dark fantasy world, magic is considered evil and those who show signs of possessing it are captured and eventually killed. This story sucked me right in from the first line, and it kept me reading way into the wee hours of the night.
What I like the best about this book is that Marie Lu nailed the sympathetic antagonist. I feel for Adelina. I struggle along with her, and eventually, I started questioning what is good and evil. This questioning is exactly why I am giving this book 5 out of 5 stars. Any author that can swing me into questioning the fine line between good and evil, right and wrong, or justice and revenge has my full attention. I have always loved books the push the boundaries and make me question my own beliefs. That's what books are here for, to expand our minds and push on the borders of our comfort zones. Not only that, but there is so much character development throughout the novel, and every single character develops–not just the ones we get points of view from.
I'd also like to mention that Adelina is not the only strong female character in this book. Marie Lu has managed to give us multiple kick-ass, self-reliant females, and from the way this book ends I have a feeling we will be seeing more in the second book. This novel deserves to be read over and over again. I would love to discuss more of the complexities of Adelina, but I don't believe in spoiling the reader's experience. I believe that this book is just that–an experience.
Marie Lu created a beautifully dark and mysterious fantasy world with amazing characters. Lu pushes the boundaries of readers beliefs just enough to make them uncomfortable and then comforts them with her words. I definitely give this book 5 out of 5 stars and I cannot wait to see how this series progresses. Will Lu push the readers even further into questioning good and evil, or will she make clear cut lines and the reader must decide who they will back? Either way, I look forward to finding out.
By the way, if you haven't read Marie Lu's Legend series, do it….do it now! The alternating points of view are fantastic, and in that series, she also questions which side is right or wrong. Who really is the good or evil side when it comes to war?