Download the Amazon Europe Guide
We all know by now how huge the business opportunity with Amazon is right now in the United States, and everybody who is in some sort of online marketing business talks about it, no matter if they are starting entrepreneurs and business owners, or already established professionals with years of experience in online marketing, affiliate, e-commerce, you name it.
Amazon is just one of those ever-first-time-seen businesses growing so exponentially fast while securing the safe business environment for Business Owners and Entrepreneurs, and all of this while keeping their most valuable asset – Customers happy. Very lucrative and profitable environment for the Amazon sellers, Business owners, and Customer satisfaction along with user shopping experience are simply one of the Amazon's biggest advantage in e-commerce business environment.
So what is the biggest advantage and opportunity in this for you, you may ask?
The people absolutely TRUST Amazon, and Amazon will allow you to sell products under their brand, in their Trusted Market Place. I don't know if anyone realizes how huge this is for the e-commerce or any other online business, especially when talking about the conversions of sales.
The conversion rate is one of the biggest factors in whether the online business will be profitable or will be losing money, and a few extra % of conversions of sales could make a big difference.
So with that being said, here are my last words before I dive into the business opportunity to start with Amazon Europe.
Anyone who is running a retail or e-commerce business (or both), and is not using the Amazon Seller's central to expand their business and profit, is really losing a lot, Not a HYPE…Not a False Scarcity.
Amazon Europe and Why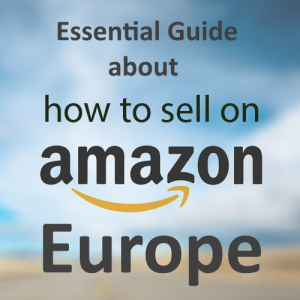 The reason why it's so hot opportunity to start selling on Amazon Europe, to customers in Europe, is simple. As you know it's not that long ago since Amazon launched the Amazon.de in Germany, and in many other European countries such as UK, Spain, France, Italy.
Europe is packed with 340 million hungry buyers/customers.
When running the e-commerce business, we can live and be residents in Europe, and market the products to the American customers, that how most of the ecomm marketers except me would do, since the Amazon e-commerce market wasn't really much established. Until now, anyway.
Now the time is coming when Amazon marketers are turning to sell the products on European Markets, because of all the major locations are established and in the fully operational mode to help you as an Amazon Seller to make the best out of Amazon business platform and marketplace.
For people living in Europe this is super great news and probably the hottest opportunity in 2018 to launch an e-commerce business, but also for non-EU residents can easily begin selling in Europe, all they need to do is to register for the VAT (Value Added Tax).
The great advantage is that as an Amazon Seller you can operate and sell in each one of the European countries at the same time, thanks to the integrated translator inside the Amazon seller's central.
There are established threshold amounts for each country that Amazon serves, which once they are reached, the each country's different rule applies.
Amazon Europe – Getting Paid
A couple of years back the only way how to get paid from Amazon if you were resident in the different country, was via Check. The reason for that was that you needed your bank account to be in the same country where you sell your products. And without a real address on your name, you cannot open a bank account.
That's why some very smart heads came up with the perfect solution and way to have a bank account in the country without address or being a resident.
It's called Payoneer.
When signing up for Payoneer account you get to choose from 7 main countries and currencies, and if you want you can activate all of the accounts. It's like fully functional virtual bank accounts with all the necessary details provided.
Their structure fees for using their service is minimal and it's pretty much worth it, considering how much of a headache and struggle you save along the way.
There is nothing to lose by checking them out, just follow the link – Sign Up for Payoneer.
(PS: Once you receive $1000 in total into your account you receive $25 as a bonus!)
And Payoneer service gets even better. A short while ag they integrated the option to manage all your Amazon stores through the one interface, and you'll be able to:
View past and upcoming payments in one place
Export all store payments to excel
Get new receiving accounts when you need them
Request bank statements with ease
EU VAT Registrations and Payments
As concerning the VAT, everyone who wishes to open the Amazon store in Europe is required to register for the VAT, that is just mandatory. When living outside Europe, it could be quite difficult to know and understand VAT and what to do, but AGAIN, Payoneer got everyone covered.
Payoneer made it really easy to pay your tax from your Payoneer account balance in the chosen country, and in the country's currency for Free, saving you a ton of time and money.
---
DOWNLOAD PDF AMAZON EUROPE BUSINESS GUIDE
For everyone who wants to learn more about starting a business on Amazon Europe, download this Amazon Europe Business Guide by Payoneer.
Also, if you didn't, we highly encourage to read our insightful review and recommendation of possibly the best Amazon e-Commerce Business course – Amazing Selling Machine.