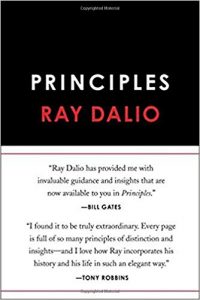 In the review of Principles: Life and Work, the book that has been officially published in September 2017, anyone who is at least slightly interested in finding the elemental principles of success and wealth in work/business and life, I believe that this book will be the essential shortcut to achieve any goals.
Read down below about this incredible man who been able to achieve so many amazing things in life out of nothing.
Take the Book Principles as the kind of autobiography and self-analyzing of the important principles and steps that lead Ray Dalio to the unbelievable wealth and success. His personal words about his new book were, "I am passing along these Principles because I am now at the stage in my life in which I want to help others to be successful, rather than to be more successful myself." 
What nice and powerful words from a man who became a self-made multi-billionaire and founder of the biggest hedge fund in the World.
It's also very important to mention that Principles are the fundamental Truths that serve as the foundation for behavior that gets you what you want out of life. Having a good set of Principles is like having a good collection of recipes for success.
It's not any secret or new thing that most of the successful people operate by principles that help them to be successful, and from business to business, life to life, those principles vary enormously, so each person's principles are different, whether in life or work.
The problem with most of the people is that they don't know their principles or that they have a huge impact on their life or a lot of times they are not enough specific about them. It's like to be specific about the goal that you want to achieve, more specific you are, more likely, faster, and easier you going to accomplish the goal.
The main purpose of the book Principles: Life and Work by Ray Dalio, is to help others who seek to find and adopt own Principles in life and business, which is one of the very critical steps towards the Success. You don't need to know everything that you need to know in order to be successful, but you need to know Your Principles!
Principles Summary
The book consists of three main Parts, I, II, III.
Part I – Where I am Coming From

Part II – Life Principles

Part III – Work Principles
In the first part of the book, Ray Dalio explains where he is coming from, in other words, his quick life biography from the day he born all the way up to present. (120 pages)
Part two is about the Life Principles. In these days we already know that by incorporating only business into the life is slow but sure way into the great abyss, meaning that anyone rarely going to be happy in life just with business and work principles. That one of the most common thing that drives people apart in life.
Learn You Life Principles, and you will find happiness.
The last third Part is obviously about Work Principles, and it is the second but not least important half of the Success. Learning how to be a charismatic and great entrepreneur or businessman is an invaluable skill in these days.
About Ray Dalio
In 1975, Ray Dalio founded an investment firm, Bridgewater Associates, out of his two-bedroom apartment or condo in New York City. Forty years later, Bridgewater has made more money for its customers than any other hedge fund in history and grown into the fifth essential private company in the United States, inning accordance with Fortune magazine. Dalio himself has actually been called to Time publication's list of the 100 most prominent individuals on the planet. Along the way, Dalio found a set of unique concepts that have actually caused Bridgewater's extremely efficient culture, which he describes as "an idea meritocracy that makes every effort to attain meaningful work and meaningful relationships through extreme transparency." It is these concepts, and not anything unique about Dalio, who matured an ordinary kid in a middle-class Long Island neighborhood, that he believes are the factor behind his success.
Here, from a person who has actually been called both "the Steve Jobs of investing" and "the theorist king of the financial universe" (CIO magazine), is a rare chance to acquire tested guidance, unlike anything you'll discover in the standard service press.
Ray Dalio, one of the world's most successful investors and entrepreneurs, shares the unconventional concepts that he's established, improved, and used over the past forty years to produce unique lead to both life and organizations, and which anybody or company can adopt to assist achieve their objectives.
In Principles, Dalio shares what he's found out over the course of his remarkable career. While the book overflows with novel concepts for companies and institutions, Principles also offers a clear, simple technique to decision-making that Dalio believes anybody can use, no matter what they're looking for to attain.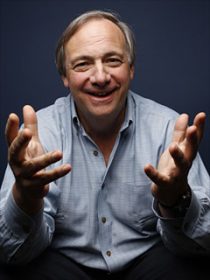 Recommended: 2017 Bestsellers – UNSHAKEABLE Your Financial Freedom Book by Tony Robbins