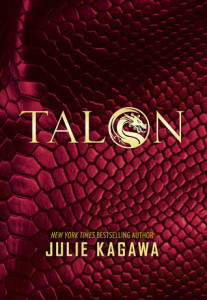 I am a huge fan of Julie Kagawa. As soon as this book was available for pre-order, I jumped all over it. Talon is the best of both worlds, Julie Kagawa and DRAGONS! Kagawa has managed to take Dragons, The Order of Saint George, and California and make them totally familiar to a Midwestern person like me. I am familiar with The Order of Saint George, so seeing all the liberties and history building that Kagawa has done is fascinating.
In Talon book by Julie Kagawa, dragons live among us, but they have to remain hidden because of the Order of Saint George–whom throughout history have taken it upon themselves to execute dragons. The Order has one goal in life, and that is to completely rid the world of all dragons . . . at all costs. In turn, the dragons are secluded, hidden from the rest of the world until the turn 16. When they turn 16, they are put in the human world, with a monitor, and assimilated to the human world and how to contain their inner beasts.  Dante and Ember are rare–they are the only twin hatchlings in Dragon history. This adds an interesting dynamic to the story when Ember tries to push the limits that bind her to servitude with Talon while Dante follows every rule to the letter. If the Dragons ever decide to defect from Talon and not follow their rules, they are considered rogue, and Talon does whatever possible to hunt them down and exterminate them. See, Talon is the dragon governing the body. The hatchlings begin training with Talon, and will be assigned to jobs that Talon has deemed appropriate for their particular skill set. This fun fact will come into play when you meet another point of view character, Cobalt.
Garret is the other point of view we get to experience the story with. Garret is a hardcore soldier of the Order of Saint George, and his entire existence has been to eliminate dragons at any cost. His family was killed by dragons, and the Order used his need for revenge as motivation to make him the super soldier they need. When Ember and Garret meet there is a connection. They both try to fight it, because of their training and education, but by the end of the novel we can feel that keeping them apart is going to be an impossible task.
Some of my favorite moments from this novel come from Ember describing what it is like to fly and then comparing it to surfing. I enjoyed being in Ember and Garret's heads. Feeling their inner struggles was so powerful, and great to see on paper. I remember being a teenager and wanting to question things but never knowing when the right time was to ask the important questions. I'm so glad to see that between the covers of this book some of these questions are being asked. I really enjoy how strong of a character Ember is, and how her entire purpose of existence has nothing to do with falling in love.
Like I said earlier, I am a complete and total fangirl of Julie Kagawa. I would even read her grocery list. Kagawa once again delivers a great story and has managed to push several buttons on the theme machine. She makes you question the things you have been taught and makes you step outside of your comfort zone and question your beliefs. In a time when the world needs books with diversity and to teach young adults how to become their own person, Kagawa delivers and I cannot wait for the sequel. I definitely give this book five out of five stars.
P.S. Did you know that this series got picked up for movie rights before it was even published? If you haven't read anything else by Kagawa, I suggest you take a look at her faerie series–The Iron Fey, and her vampire series–The Blood of Eden. Also, every single one of Kagawa's books presents, at least, one fierce female protagonist. Kagawa really knows how to deliver when it comes to strong females.