Is It Possible To Achieve Financial Freedom?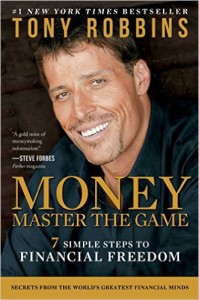 The Financial Investment world is absolutely undiscovered territory for a lot of people, especially for those who would need it most. In the Tony Robbins's book, Money Master the Game has uncovered so much of delicate information about how to secure the financial freedom through investing. The book is written in a way that the average normal people could take an advantage of the valuable information that Mr. Robbins had laid down in a 500-page book. How to start improving your lifestyle step by step, even if you think that there is nothing left that you've got. It's the worst feeling when the one thinks that there is nothing coming in the favor, and we just keep repeating the same monolog in our head over and over because there seems to be no way out of the desperate financial situation. Then a lot of people start putting the blame for their sorrow and suffer on everything and everyone around.
Tony Robbins show that the man can improve and half-manifest the life that everyone of us wants, through the focus, belief, action, and positive state of mind. The one without another is useless. Focus without belief and action, action without focus and belief and so on. But altogether it's the most powerful state of being, and once the one can see that, he/she realize that living a happy and financially independent life is not that hard, the one just have to choose.
To sum up what Tony basically did, he spoke out to the 50 richest people and most successful investors on the planet, to come up with the formula that keeps the rich richer without very little risk. We can think about his book as the updated version of the Think and Grow Rich by Napoleon Hill, which is the book that every single successful businessman, investor or entrepreneur read. Therefore, Hill's book is more and tightly focused on psychological and spiritual aspects of success, Robbin's book is more from the practical side point of view, which many people will appreciate that.
Debunking the myths from the world of investment and showing and explaining where the majority of beginning investors do mistakes and what they do wrong. This part of a business is full of wrong information and false directions, and only the handful of people seen through and learned how to swim in this dangerous water absolutely safe, and without any risk of losing a big chunk of an investment.
Conclusion
People often ask me to tell them what's in the book, to make a review of it's most important content. Here is what I can honestly say. It's impossible to describe and review the most important content of the book because I would almost have to write a book about the Money Master the Game myself, and maybe to your surprise, there already is such a book, which just 100% justify what I have just said.
FOLKS, Please!
If you are at least slightly interested in about the success and investing subject, just get Tony's book right now, for $15 dollars nobody cannot go wrong.
Also here down below there is a brilliant video interview with Frank Kern and Tony Robbins about his book, done a little bit over a year ago. This is Money Master the Game Review, and I hope that everyone is going to like that and get the most out of it for the financially secure lifestyle.