Single Greatest Bestseller about Investing of All Time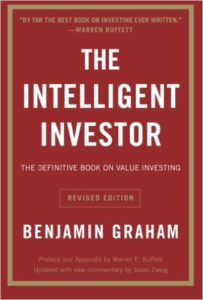 The Intelligent Investor by Benjamin Graham is according to one of the richest man on the planet Warren Buffet, the best and most important book that he'd ever recommend to read. It literally changed the investing game for many people back in the stock market and economic boom, except Warren Buffet. The original publication is dated on 1949 and it's been revised many times ever since. The Intelligent Investor apparently changed the Warren Buffet's look entire look at the market and investing as he says that it was the most important book he ever read, it has to be a really good book.
Just like Napoleon Hill, the author of Think and Grow Rich and The Law of Success, the Benjamin Graham has been one of the early pioneers who introduced to the world this type of literature, based on personal success and development mindset of a wealthy person. Wealth doesn't necessarily always mean the money, never forget that.
This version of the Intelligent Investor publication has been revised and interpreted into today's world economy and market by Financial journalist Jason Zweig, because as we know many things have changed since 1940's. Jason left all the original principles and ideas that Graham documented, he just incorporated and made applicable everything in today's world. Also, Warren Buffet has been collaborating on the new revised update of Intelligent Investor book, so you really cannot go wrong by picking up this one, as it could really benefit your business, career, and your quality of life.
About Benjamin Graham
The greatest investment advisor of the twentieth century, Benjamin Graham, taught and inspired people worldwide. Graham's philosophy of "value investing" — which shields investors from substantial error and teaches them to develop long-term strategies — has made The Intelligent Investor the stock market bible ever since its original publication in 1949.
Over the years, market developments have proven the wisdom of Graham's strategies. While preserving the integrity of the original text by Benjamin Graham, this revised edition includes updated commentary by noted financial journalist Jason Zweig, whose perspective incorporates the realities of today's market, draws parallels between Graham's examples and today's financial headlines, and gives readers a more thorough understanding of how to apply Graham's principles.
Vital and indispensable, this Harper Business Essentials edition of The Intelligent Investor is the most important book you will ever read on how to reach your financial goals.
Down below is the short documentary video about the Warren Buffet's life and how he gave away over 30 Billions of dollars (2/3 of his entire wealth) for humanitarian help and organizations.
More about Warren Buffet on Wikipedia
More books about Investing:
Money, Master the Game – 7 Simple Steps to Financial Freedom