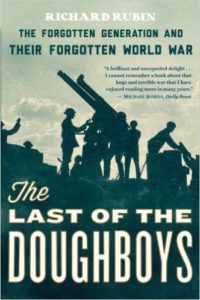 Today's Book-of-the-day, The Last of the Doughboys, is about World War I soldiers (back in 1918) who are still alive.
They were born in the 1800s, lived through the 1900s, and made it into the 2000s.
Three centuries. So wise…
This guy who is 106 years old says, "I don't care anything about age. It doesn't give me a thought, I just live, and age is never in my mind. I don't know why people make so much of age… I take things as they are, and I don't let problems bother me. I never have problems… Nothing has ever been hard for me, I just live." 
Now this is coming from a man who lived through World War I as a
U.S. doughboy, or soldier. He has seen friends blown up all around him.
It was a war that caused many soldiers to go insane, yet he made it through just fine. He knew how to live and let live, and also how to forget.
Remove major stressors from your life. Not all of them, only the ones that don't serve a purpose to get you to your end goal. Some stress is important, just like with lifting weights and developing character.
Richard Rubin has done something that will never be possible for anyone to do again. His interviews with the last American World War I veterans—who have all since died—bring to vivid life a cataclysm that changed our world forever but that remains curiously forgotten here."—Adam Hochschild, author of To End All Wars: A Story of Loyalty and Rebellion, 1914–1918

In 2003, 85 years after the end of World War I, Richard Rubin set out to see if he could still find and talk to someone who had actually served in the American Expeditionary Forces during that colossal conflict. Ultimately, he found dozens, aged 101 to 113, from Cape Cod to Carson City, who shared with him at the last possible moment their stories of America's Great War. Nineteenth-century men and women living in the twenty-first century, they were self-reliant, humble, and stoic, never complaining, but still marveling at the immensity of the war they helped win, and the complexity of the world they helped create. Though America has largely forgotten their war, you will never forget them, or their stories. A decade in the making, The Last of the Doughboys is the most sweeping look at America's First World War in a generation, a glorious reminder of the tremendously important role America played in the war to end all wars, as well as a moving meditation on character, grace, aging, and memory.